´United for Peace´
An initiative for peace
"Education is change"
#acepeduquemospaz
Initiative

As an institution that strengthens the hearts, minds and spirits of children and young people, we are concerned with forming upright, open-minded, supportive, tolerant and balanced human beings. In a globalized world in which inequality between nations and thoughts causes wars and differences and in which, after a pandemic, we need to strengthen interpersonal relationships, it has been necessary to find a way to respond to the needs of our society.
´Educating for peace´ has been the answer.
This is how the 'United for Peace' initiative arose at Saint Mary School, in which, through education, we instill principles of peaceful coexistence, dialogue and mediation to solve conflicts.
Justice, tolerance, respect, love, cooperation and solidarity, among others, are basic values ​​to coexist peacefully in a globalized world.
Upon discovering the impact that this initiative could have in the country and in the entire world, Saint Mary School invited the private centers that are part of ACEP (Association of Private Educational Centers) and other entities. They have already managed to unite around:
70 private schools and colleges
5 associations
6 comprehensive support centers
4 Minor League sports teams.
5 associations
The ´Colegio de Abogados y Abogadas de Costa Rica´

Association of Private Centers, ACEP, support and congratulation letter to the cause.

We are very proud to share the letter of congratulations and gratitude for the achievements obtained in the promotion of the PEACE program in the private educational centers that belong to ACEP.
Interviews and visits

Podcast in EDUVIRTUALIS ´Education without borders´. Interview with Laura Grillo Abdelnour, General Director.
´Más que noticias´Tv Program. If you would like to know more about how this initiative started, you can watch a short video from the "Más que noticias" Program from Channel 7.
U-peace visit. Thanks to our ´United for Peace´ initiative, we received 9 students from England, Vietnam, Japan, Colombia, Ethiopia and the United States who are studying the 'Master in Education for Peace' at the University for peace. They wanted to know more about our school, our methodologies and what was the initiativa about.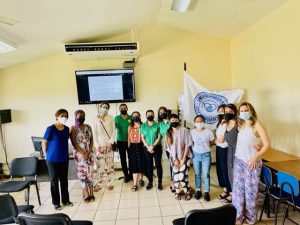 Do you want to be part of this iniciative?

Send an email to unidosporlapaz@saintmary.ed.cr explaining your interest in participating in this initiative and your willingness to carry out the proposed activities and generate new proposals.
Join in with in the following activities:
Among the activities carried out and shared by the schools that are participating are:
Mural:
Each school will create a mural in its facilities. The mural must address the ´hashtag´ #acepeduquemospaz
The title of the mural can be personalized in each school and in the language of their choice.
The mural can be made with the handprints of all the members of the school community or by area, Preschool, Elementary School  and High School. Parents can be invited to place their handprint too.
It is necessary to document the process with photos and videos. We recommend you to create a folder in Google Drive with the name of the Institution and share it with unidosporlapaz@saintmary.ed.cr

KAMUK SCHOOL Mural: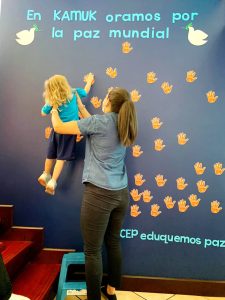 Logos
Logos used to promote all the activities to be published or shared by email or social media will be three: the school logo, the ´United for Peace´ logo and the ACEP logo. Example:

PEACE flag in each school
It is suggested to have the flag that represents that the school supports the "United for Peace" initiative and use it in all assemblies, civic acts, cultural acts or exhibitions of the school in social networks and other media to highlight our support to this initiative.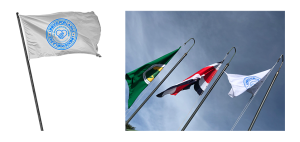 Sessions for parents, coaches, students and teaching and administrative staff
Sessions will be offered for all members of the school communities, sports clubs and centers that have joined this initiative. Those interested will be sent the list of sessions with the links and invitations separately. 
Virtual meetings will be through the ZOOM of Google MEET platform.
Chat with activity coordinators
There is a chat #acepeduquemospaz with the contacts of the coordinators, representatives or principals from the schools, clubs and centers participating. In this chat, the coordinators will be kept informed of the activities so that they echo in their centers.
Follow-up meetings.
Through chat with coordinators, the group will be kept informed, resources will be shared and information on talks and/or workshops will be sent.
Depending on the need, every two months there will be a meeting with the coordinators to follow up on the initiative. People will be contacted through the chat.
A reminder will be made a week before the meeting.
Peace Makers Program
 Last year, Saint Mary School began the journey to train students as Peace Makers (under 18 years of age). It began with the training of interested teachers and administrators to train as MEDIATORS (over 18 years of age). Our school is in this stage at the moment.
The experience has been wonderful and we want to share it with the whole country.
It is proposed to offer a course to train teaching and administrative staff of the Institutions. The proposal will be worked on and sent to those who wish to join. Subsequently, each school can also train its students and other staff.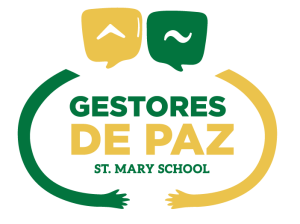 Music Coordinators from the schools participating
The coordinators of the Music area of ​​different schools are organizing the production of a peace song; both the lyrics and the music.
The song will be edited using the images and videos shared by the schools where all the activities they have carried out are shown.
Campaign ´Books for Peace´
Initiative born to bring the magic of books to many people:
The 'BOOKS FOR PEACE' campaign aims to unite schools, associations and centers to collect books and be able to donate them to reading points in prisons and schools, colleges and communities with limited resources.
The books are to be donated to people of all ages and can be classic novels, graphic novels, short stories, self-help books, books with positive messages, among others.
Donors are invited to write a message of peace on the back cover to share with another person.
Donations will be received at Saint Mary School, West College, International Christian School (ICS), Saint Michael School, Humboldt Schule, Saint Gregory School, ´Olas por un cambio´ Foundation (they can be left at the Jorge Volio Corporate Center in Santa Ana) and with representatives of the Business Kids company.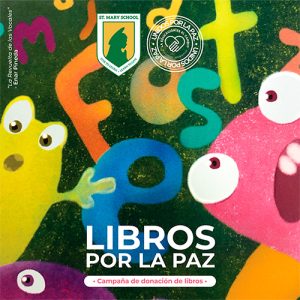 Grocery Donations with peace messages "Hands that give will never be empty". With the motto  "From one of our School families to another family in our community"
Collect  grocery donations  to help families in need in your community.
Include a peace message to the recipient.
Follow the link and see projects from other committed schools:
https://sites.google.com/saintmary.ed.cr/unidos-por-la-paz/general-news
Contact

Thank you for your participation in this initiative for peace. Any comments or suggestions can be written to our General Director Laura Grillo Abdelnour lgrillo@saintmary.ed.cr or to the email unidosporlapaz@saintmary.ed.cr.